Embedded Design
ARIES Embedded Introduces SMARC®-compliant MRZG2LS and MRZV2LS SoMs
New System-on-Modules Based on Renesas RZ Family with Dual Cortex®-A55/M33 CPU Provide High Performance for Industrial Video Applications
Fuerstenfeldbruck (Germany) September 27, 2023 – ARIES Embedded, specialist in embedded services and products, presents the new SMARC®-compliant system-on-modules (SoM) MRZG2LS and MRZV2LS. The SoMs are based on the Renesas RZ family architecture and provide high performance for embedded systems. The RZ/G2L microprocessor from Renesas includes a Dual Cortex®-A55 (1.2 GHz) CPU, 16-bit DDR3L/DDR4 interface, 3D graphics engine with Arm Mali-G31 and video codec (H.264). "While the MRZG2LS SoM integrates the single/dual Cortex®-A55/Cortex®-M33, the MRZV2LS is equipped with a Cortex®-A55 (1.2GHz) CPU and built-in AI accelerator 'DRP-AI' for vision applications, which is Renesas' original technology," explained Andreas Widder, Managing Director of ARIES Embedded. "Our new SoMs are ideal for applications such as entry-class industrial human machine interfaces (HMIs), embedded vision, edge artificial intelligence (edge-AI), real-time control, industrial ethernet connectivity, and embedded devices with video capabilities."
With the MRZG2LS and MRZV2LS, ARIES Embedded provides their first SoMs compliant with the SMARC® 2.1 (Smart Mobility Architecture) standard by SGET (Standardization Group for Embedded Technologies e. V.). This standard defines a versatile small form factor computer module targeting applications that require low power, low costs, and high performance. 
Artificial Intelligence Acceleration 
The AI accelerator "DRP-AI" from Renesas is configured with DRP and AI-MAC. DRP-AI's excellent power efficiency eliminates the need for heat dissipation measures such as heat sinks or cooling fans. AI can be implemented cost efficiently, not only in consumer electronics and industrial equipment but also in a wide range of applications such as point-of-sale (POS) terminals for retail. Also, the DRP-AI provides both real-time AI inference and image processing functions with the capabilities essential for camera support, such as color correction and noise reduction. This enables customers to implement AI-based vision applications without requiring an external image signal processor (ISP).
High Performance Embedded Systems 
The new SoMs MRZG2LS and MRZV2LS offer a manifold feature set around the single or dual Cortex-A55, up to 1 GHz, and the Cortex-M33. In addition to the optional AI accelerator (DRP-AI on MRZV2L), they have a 3D graphics engine (Arm Mali-G31) and video codec (H.264). The memory options are comprised of 512 MB - 4 GB DDR4 RAM, SPI NOR, and 4 GB - 64 GB eMMC NAND Flash. The SoMs are very flexible and versatile thanks to their broad variety of interfaces, including dual 10/100/1000MBit Ethernet with PHY, USB2.0 Host/OTG, 2x CAN, UART, I2C, SPI, ADC, as well as a MIPI-CSI camera interface and a MIPI-DSI display interface. The temperature range is 0 °C to +70 °C for commercial and -40 °C to +85 °C for industrial environments.
Evaluation Kit for Prompt Project Entry
ARIES Embedded supports a quick and smooth start-up into the new architecture with the corresponding evaluation kits MRZG2LSEVK and MRZV2LSEVK. Thanks to their high functionalities, they support developers for a quick project entry, help to develop software and can also be used as platforms for rapid prototyping. The baseboard supports both MRZG2LS and MRZV2LS.
The MRZG2LS and MRZV2LS SoMs will be available in the fourth quarter 2023. 
More information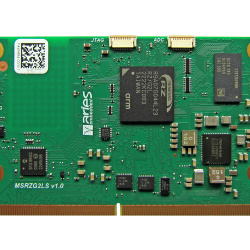 ARIES Embedded introduces SMARC®-compliant MRZG2LS and MRZV2LS SoMs based on Renesas RZ CPU Copyright: ARIES Embedded Download: 72dpi // 300dpi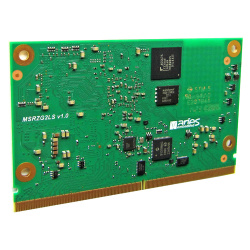 MRZG2LS and MRZV2LS from ARIES Embedded with Dual Cortex®-A55/M33-CPU for industrial video apps Copyright: ARIES Embedded Download: 72dpi // 300dpi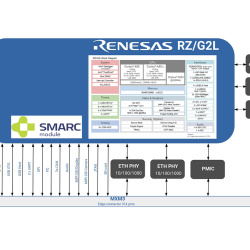 New SoMs integrate CortexA55/M33 CPU from Renesas with high-performance for embedded systems Copyright: ARIES Embedded Download: 72dpi // 300dpi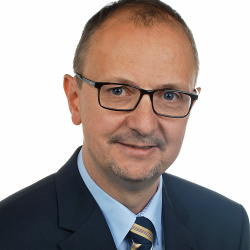 Andreas Widder is Managing Director of ARIES Embedded GmbH Copyright: ARIES Embedded GmbH Download: 72dpi // 300dpi
About ARIES Embedded
ARIES Embedded provides hardware and software development and standard products for industrial and agricultural sectors. The 2001 founded embedded specialist headquartered in Fuerstenfeldbruck, Germany, focuses on FPGA technology and open source software. The portfolio comprises of modular systems for flexible and fast use in functional prototypes, pilot series and mass production. On customer request, ARIES Embedded individually customizes standard products in accordance with project requirements.