Automotive Ethernet
Automotive Gigabit Ethernet Put into Effect
KDPOF Announces Sampling of First Gigabit over POF Transceiver for Automotive Applications
Madrid, Spain, February 7, 2017 – KDPOF – leading supplier for automotive gigabit connectivity over POF (Plastic Optical Fiber) – announced the sampling of the first automotive Gigabit Ethernet POF (GEPOF) transceiver in 2017. "With the KDPOF KD1053, we are proud to introduce the first fully integrated automotive transceiver that implements the physical layer of Gigabit Ethernet over POF," stated Carlos Pardo, CEO and Co-Founder of KDPOF. "Optimized for low power and small footprint, it transmits data at 1000/100 Mbps on standard SI-POF, MC-POF, or PCS, according to 1000BASE-RH (IEEE 802.3bv)." The device perfectly meets the requirements of carmakers by providing high connectivity with flexible digital host interface, low latency, low jitter, and low linking time. 
Simple and Flexible Integration of High Bandwidth 
KDPOF designed the automotive KD1053 for use with automotive qualified photonics, including 650nm RCLED, LED, and Si PIN PD that are currently used in existing automotive products, with updated analog optoelectronics/interfaces. The KD1053 transceiver is flexible and makes integration simple by supporting different standards for the host digital interface. This simplifies the system and board level designs: RGMII, RMII, MII, SGMII, 1000BASE-X, and 100BASE-X. Also, it provides a Serial Management Interface (SMI). Manufacture is based on a 65-nm CMOS process for best performance, lowest cost, and lowest power for Plastic Optical Fiber (POF) solutions.
The KD1053 transceiver fulfills the requirements of the POF automotive market such as the key applications for future automotive networks: communication backbone, smart antenna link, infotainment, Battery Management Systems (BMS) and Advanced Driver Assistance Systems (ADAS). It is the perfect device to integrate high-speed capabilities in POF ports with a low-cost BOM (Bills Of Materials). Its built-in analog interface simplifies connectivity to Fiber Optic Transceivers (FOT). Examples of products able to incorporate POF ports based on the KD1053 ASSP include ECUs, switches, cameras, and infotainment nodes.
The first samples of the GEPOF KD1053 device will be available in August 2017.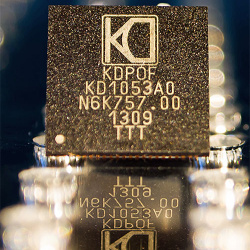 KDPOF starts sampling of the first automotive Gigabit Ethernet over POF (GEPOF) transceiver Copyright: KDPOF Download: 72dpi // 300dpi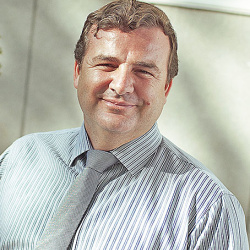 Carlos Pardo is CEO and Co-Founder of KDPOF Copyright: KDPOF Download: 72dpi // 300dpi
About KDPOF
Fabless semiconductor supplier KDPOF provides innovative high-speed optical networking for harsh environments. KDPOF made gigabit communications overstep-index plastic optical fiber (SI-POF) a reality for automotive. Founded in 2010 in Madrid, Spain, KDPOF offers its cost-effective technology as a fully qualified automotive-grade ASSP. KDPOF's technology makes use of innovative digital adaptive algorithms to maximize the receiver's sensitivity. This supports high-yield and reliable optoelectronics production in low-cost bulk CMOS deep submicron nodes, delivering carmakers low risk, low cost, and short time-to-market.